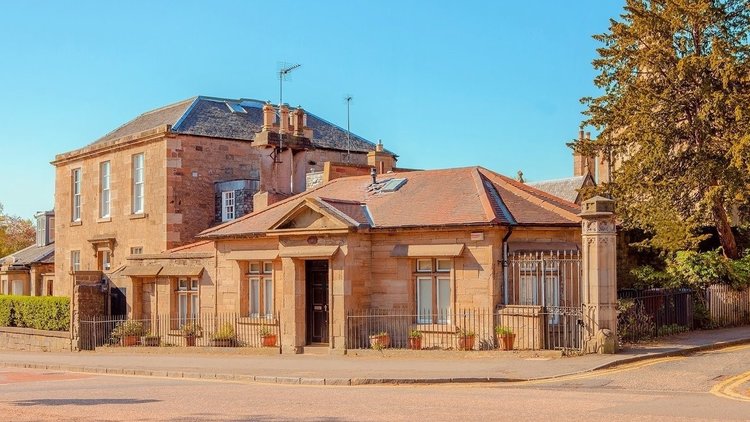 See all 25 photo(s)
Sleeps 4 (+1)
2 Bedrooms
1 Bathrooms
A gorgeous period detached cottage; forming part of the exclusive Blacket Estate in Newington.
Offering guests a great opportunity to stay in their own cottage with private back terrace, yet still be close to the city centre (walkable or only 10 minutes by bus or taxi).

The whole cottage has truly inspiring design touches, with Philip stark chairs in the dining room and a great mix of lovely antique furniture and modern style.

We are delighted to welcome a well behaved dog to Gatekeepers Cottage @ Arthur's Seat: £30 per booking.
Bedroom 1- Double Bed
Bedroom 2- Double Bed
Living room
Dining room
Kitchen
Bathroom
Bedroom 1
Bedroom 2

The front door leads into an entrance hall, to the right are the two bedrooms each with a double bed and also the bathroom. Both bedrooms have their own character and design touches. The bathroom is lovely too; with sandstone coloured tiles and smart vanity units, thought has gone into its design. The bath has a shower over it.

There is a very cosy and homely living room with French doors leading out to the private terrace. Certainly a room to spend time in, relaxing after a day's sightseeing or shopping! On a summer's day, the terrace offers an additional space to enjoy a morning coffee or glass of wine.
There is a separate dining area with smart modern kitchen adjacent. Featuring sophisticated white units, the design combines country kitchen living with city chic.

-Home Truths-
The beautiful fireplace within this property is decorative only. It is not for guest use for both guest and property safety.
A gorgeous period detached cottage with private back terrace.

-Booking Requirements-
We reserve the right to vet any booking. This apartment is not suitable for stag parties, hen parties, young single sex groups or parties. One member of the booking party must be over 25 years old. Strictly non smoking. We require names and ages of all guests, as well as addresses and ID. A damage deposit of £250 is required one week before arrival and will be fully refunded pending no damages one week after your departure.
The house also has a fascinating history. This detached cottage was one of four lodge cottages of the Blacket Estate. The Estate was an exclusive residential development built in the 1830s. At each of its four entrances there was a lodge occupied by a gatekeeper whose job it was to open and close the gates into the Blacket Estate. This continued until 1903 when, with the arrival of motor cars, the occupants of the lodges no longer had the obligation to open and close the gates. The gates were removed during the Second World War.

It is situated opposite what is now Salisbury Green hotel, part of Edinburgh University's Pollock Halls of Residence. This building was until the Second World War St. Trinneans girls school, a name used, with changed spelling, by Ronald Searle for his famous cartoons of St Trinian's girls.

The Gatekeepers Cottage @ Blacket Estate is within a walking distance, about ten minutes, from the foot of Arthur's Seat, giving you the best of opportunities to take advantage of the Edinburgh precarious weather – no commuting and short burst of a walk from your front door!

Many happy customers would recommend the Café Cassis on Salisbury Road – a lovely restaurant that provides daily changing specials, with all their dishes prepared using seasonal and locally sourced products. Lunch and dinner needs satiated right there!

Another fantastic find is the Steamie on Newington Road, just five minutes away from the apartment, with excellent menu and a little bold too, with its mouth-watering wide choice of dishes mostly with either a Greek or an American influence, (the latter mostly of the burger/hot dog variety) and some classic British dishes Steamie is definitely worth a closer acquaintance.

For something different, why not try the best Bengali & Indian restaurant in Edinburgh (or so we hear) – Voujon on Newington Road. The staff agree that: "in choosing Voujon you have paid us a compliment and set us a task of living up to your standards" – could there be a better testament to great culinary experience! Also, descriptive menus that you will need yoru time to browse is a literary experience on its own; "set alight your sense and tantalise your tastebuds".
Also, the Cottage is wonderfully located nearby the Edinburgh Commonwealth Pool, where a dip in the warm waters might be just the relaxing change you need after all that sightseeing and other leisurely activities.
Limited Mobility Access
This property is not suitable for wheel chairs or those with mobility difficulties due to the number of stairs in the property.

-Home Truths-
. Fireplace is for decoration only and do not work. Please do not try to use them
. This is a traditional Edinburgh property and some aspects of the apartment have aged