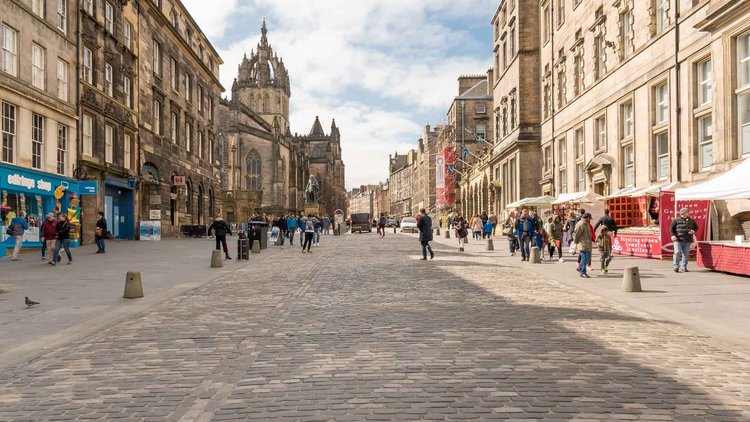 See all 18 photo(s)
Sleeps 2 (+2)
1 Bedrooms
1 Bathrooms
1 Bedroom Apartment on the ground floor (access by stairs).
Practical and comfortable furnishings.

Rooms
South facing living room with 1 sofa bed and flat screen TV. Dining area for 4. Open kitchen (ceramic hob, oven, microwave, fridge, toaster and kettle).

1 Bedroom with 1 King size bed. Quiet and cozy.

1 Shower/WC

Facilities
Towels and linen provided
Gas Central Heating
Double Glazing
Washing Machine
Access to internet: Wifi (free)

Exterior
Grade 2 listed heritage building in very central location, near main city attractions, shops, restaurants, cafes and bars. Only 50m from High Street (the Royal Mile).

Parking
Metered Bays on Chambers Street
Long Stay Car Park
Unrestricted Area

Distance
Edinburgh Castle 500m (0.3mi)
Royal Mile 50m (<0.1mi)
National Museum 500m (0.3mi)
Princes Street 500m (0.3mi)
Parliament/Holyrood House/Park 1km (0.6mi)

Other Distances
Supermarket 350m (0.2mi)
Banking Machine 200m (0.1mi)
Restaurant 50m (<0.1mi)
Bus Stop 200m (0.1mi)
Airport Tram (Princes St) 500m (0.3mi)
Train (Waverley Station) 350m (0.2mi)

Please note: These are approximate distances based on walking routes. Driving routes may be longer.

Key Collection
Personal Greeter Charge Applies (to be paid prior to arrival) for
Arrival between 20:00-22:00 - £40.00

Terms & Conditions
Please note that the terms and conditions for this property include the following points:

* Tariffs are variable by season, and there is a minimum charge equivalent to 4 nights stay – because of our changeover costs
* Taxes and all utilities included in the price
* full payment is required 6 weeks prior to arrival or immediately after booking if booking is within 6 weeks of arrival date
* a refundable damages deposit of £250 is required on entry to the property
* This is a no smoking property and not suitable for pets.<br />
*Internet is offered as a courtesy of the landlord. To the best of our abilities we try to keep it available at all times. From time to time, internet connections become slow or unavailable. While we do try to repair what is possible, there are times when the disruption is beyond our control. We do not accept any responsibility for this.
£30.00 surcharge for use of sofa bed payable on balance payment

Directions

(On Foot from Edinburgh Waverley station)
Take Exit 3 onto Market Street.
As you exit the station take the steps opposite, up "Fleshmarket Close".
At the top, turn left onto Cockburn Street and then right on the Royal Mile (you will see the cathedral).
After approximately 75 metres "Old Assembly Close" is on the left (look for the Edinburgh Fringe Box Office).
Follow the passage of "Old Assembly Close" down the hill for about 50m – you will end up on the top square of Tron Square. 14 is on the left.

(On Foot from Airport Bus Terminal, Princes Street or without steps from Edinburgh Waverley Station)
Take Waverley Bridge south – towards the Old Town.
At the small roundabout (junction with Market Street) go straight on into Cockburn Street, which winds first left, and then right up the hill.
At the top you reach High Street on the Royal Mile. Turn right (you will see cathedral) and follow directions as from Waverley Station (above).

(By Car)
It is not easy to reach Tron Square by car – and GPS is unreliable.
The nearest point for (Taxi) set down is 180 High Street, EH1 1QS (Fringe Box Office). Final approach is via "Old Assembly Close" as described avove.
Alternatively (when the High Street is closed to traffic – as it mostly is) – from Stevenlaw Close (at the back of the City Café) – accessed from Cowgate. From here take the steps up Bell's Wynd, turning left up after approximately 25m up a second flight of steps to end up on the top square of Tron Square. 14 is on the right.
1 bedroom with 1 king size bed

Extra charge of £30 for sofa bed for more than 2 guests ( must select prior to booking as an optional add on)
Grade 2 listed heritage building in a very central location, only 50m from High Street (the Royal Mile)