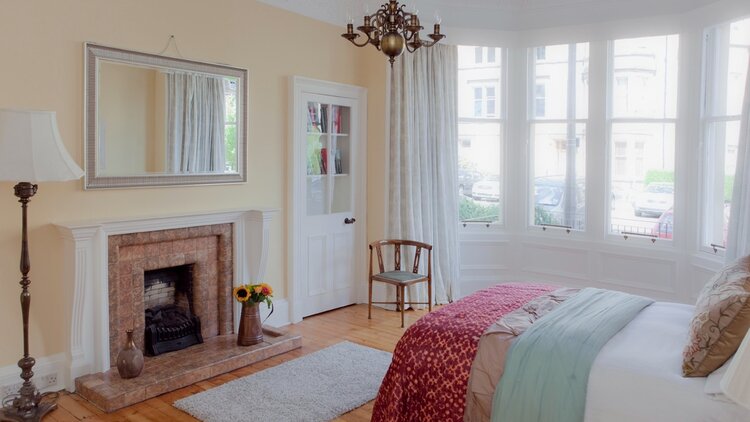 See all 43 photo(s)
Main Door Apartment in an enviable location
Sleeps 4 + 1 (Max)
2 Bedrooms
1 Bathrooms
Our 'Classic Marchmont Charm' exudes all that is lovely about Marchmont. This property is only a short walk from The Meadows, a fantastic outdoor space for children to play, for reading a book or picnicking on a sunny day.

Booking Requirements -
We ask that the lead guest is of 25 years of age or older will require names and ages of all guests, as well as proof of address and ID for the lead guest only. We will require the lead guest to acknowledge and agree to the booking terms and conditions. We reserve the right to vet any booking.

Our properties are protected by SUPERHOG, the digital trust platform that enables Hosts, Operators and Guests to confidently transact in the short-term rentals space.
Please note that once you have booked, you will be contacted by SUPERHOG directly to verify yourself and process a £500 deposit or damage waiver. This must be completed prior to check-in.

- Important -
This apartment is not suitable for stag parties, hen parties or young single sex groups or parties.
1 Double bedroom
1 Twin bedroom
1 Adjoining box room with 1 single bed
The property is spacious and light with a huge hallway. The Master bedroom has a double bed and gorgeous high ceilings, a splendid bay window and a fireplace centerpiece. There is a second bedroom with twin beds while a small box room adjoins the master bedroom.
The kitchen is small.
A main door ground floor period property with private entrance. Lovely traditional stone Victorian building in the heart of Edinburgh. Walking distance from Michelin Star restaurants and the famous Royal Mile. Truly one of our favourite neighbourhoods in the Capital.
The Classic Marchmont Charm apartment is ideally located in a calm residential area, with lovely cafes and shops just around the corner. The Marchmont and Bruntsfield areas surround Spottiswoode Road, giving you the best access to the city either by foot or by bus. The Meadows and Bruntsfield Links just minutes away from the front door ensures the best opportunities for a fresh air wander or somewhere to kick around a ball, have a picnic, or just to sit on some of the lovely benches in the park reading your favourite book.

For things to do in the area, we recommend Looking Glass Books which is an easy walking distance away on Simpson Loan by Middle Meadow Walk. This 'booktique' café boasts its own lively literary scene with regular events and author talks. Perfect for bookworms and coffee enthusiasts. Another wonderful place to have your afternoon pick-me-up is the Pastures, just around the corner on Marchmont Crescent. Considered the focal point for the local community the Friday nights, where the owners Jane and Stan stage a range of fun events such as 'come-dine-with-us' and 'grub 'n' games', feature a continental-style dinner and plenty of laughs (BYOB is encouraged, another rare perk).

For a bit of a wander about, the Morningside area is not too far and is yet another great location for some alternative shopping and some lovely cafes, lunch nooks and ice cream crannies. The city centre is not far away either, and Grassmarket and Princes Street are both a bus ride away, and offer a wide array of entertainment and some of the best in the arts and culinary scenes.
Limited Mobility Access
Property is accessed by one step entry door on street level. This property is not suitable for wheelchairs