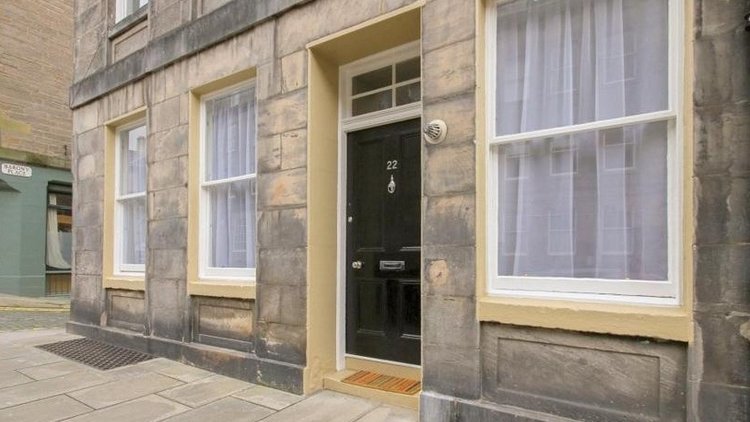 See all 7 photo(s)
Sleeps 4 + 2 (Max)
3 Bedrooms
1 Bathrooms
3 Bedroom Apartment on ground floor.

Fully refurbished Georgian style building in New Town in a central location. Near shops, restaurants, cafes and bars. 3 mins walk to airport tram. Own entrance
Spacious living room with 1 sofa, 2 chairs, TV. Dining table with 6 chairs. Kitchen (4 hobs, oven, microwave, fridge, freezer (in hallway cupboard) and kettle).

Key Collection
Personal Greeter - between 15:00-20:00
Late Arrival Charges Apply as follows:
(to be paid with final balance before arrival):
Arrival between 20:00-24:00 - £40.00 (please call to arrange arrivals after 24:00 prior to booking)

Terms and Conditions - https://www.edinburgh-flats.com/guest-terms-conditions/
Please note that the terms and conditions for this property also include the following points:

* The property must be left in a neat and tidy condition, all rubbish removed, all crockery, pots, pans etc washed and returned to the cupboards. Extra charges apply to properties requiring additional cleaning after departure.
* Taxes and all utilities included in the price
* Full payment is required 6 weeks prior to arrival or immediately after booking if booking is within 6 weeks of arrival date
* Final balance can be taken by UK debit card, bank transfer or credit card.
* This is a no smoking property and not suitable for pets.
* Internet is offered as a courtesy of the landlord and quality of service cannot be guaranteed. It is intended to be available at all times but from time to time, internet connections become slow or unavailable and the disruption is beyond our control. We do not accept any responsibility for this disruption.
3 Double Bedrooms
Limited Mobility Access
Not suitable for persons with a mobility disability