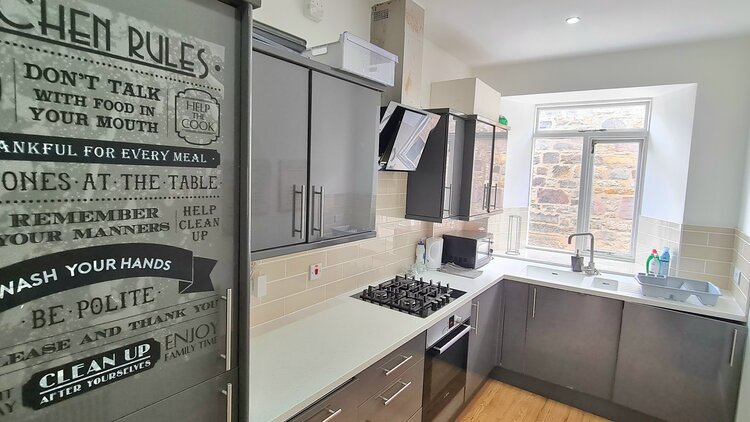 See all 41 photo(s)
Stunning 3 Bedroom City Centre Apartment.
Sleeps 8 (+2)
3 Bedrooms
2 Bathrooms
Stunning 3 bedroom city centre apartment. Excellent location. Recently refurbished and sparkling clean.

This large, modern apartment in the heart of Edinburgh is sure to be the perfect base for you to relax, have fun and explore the best of Edinburgh's vibrant city Centre. The apartment is bright and spacious throughout with a combo of modern LED lighting in the ceilings, lamps and natural light through its 7 large windows.

All 3 bedrooms are accessed via the hallway: one is ensuite, one is regular and one is located up the loft stairs/ladder. All bedrooms are large (with the exception of the bedroom in the loft which is simply enormous) and feature one double bed, a smart TV, plenty of storage and somewhere to hang your clothes, lots of sockets to charge electronic devices, a desk and chairs. The loft room also features a double sofa bed.

One bathroom is ensuite to bedroom one and the other bathroom is located off the main hallway. Each bathroom has a large shower with a rainfall shower head and detachable head, toilet, large sink, and hot towel rail.

The kitchen, living room and dining room are all open plan and also accessed via the hallway. The kitchen is modern and very well equipped with everything you would expect including a dishwasher, large integrated fridge-freezer, washing machine, double sink, kettle, toaster, microwave, gas hob and oven.
There are 3 large bedrooms, each with a double bed. In bedroom three - the largest bedroom - there is also a double sofa bed.
All beds are provided with high quality beds and bedding, 100% cotton linen and towels - 1 bath towel and 1 hand towel for each person.

There is also 2 extra sets of duvets and towels for 2 additional occupants; one to sleep on the sofa in the living room and one for a high quality air mattress which is provided on request. These 2 additional sleeping arrangements are intended only for 2 additional guests to your group.
There are 3 bedrooms, two bathrooms and an open plan kitchen/ living/ dining room. All rooms, except for one of the bathrooms which is ensuite, are very spacious and stem from the entrance hallway.

The largest bedroom - located upstairs in the loft - is accessed via a sturdy loft ladder. This can be shown in one of the pictures. It is easy to use, very secure and can be pushed up or down with minimal effort to suit. If you have any questions regarding this please don't hesitate to contact us.
You have the benefit of peace, quiet and assurance of an excellent night's sleep whilst being only a 15 SECOND walk - or perhaps 10 seconds done briskly - to the action of the heart of the city. The flat is located down a peaceful residential street only a stone throw away from the action of Edinburgh's vibrant city centre.

The humble thistle is famous for being Scotland's national flower, Thistle Street is no different and famous too! Thistle Street has everything from quirky shops, incredible restaurants boasting local produce and definition, jewellers, cobbled streets, historic buildings and architecture, trendy cafes and quaint cocktail bars.

Just one street away is Edinburgh's even more famous George Street and Princes Street. There is no end to the amount to see and do with a short walking distance of the apartment. If you would like to hear any of our local recommendations or suggestions it would be our pleasure and please don't hesitate to get in touch.
Thistle Street is located in the heart of Edinburgh's city centre. Despite being in the deceptively named 'New Town', Thistle Street is one of Edinburgh's historic streets and one of the decreasing number of original cobbled streets in Edinburgh.

There is honestly far too many incredible sights and places to see and do nearby that I can't fit everything in nor condemn anything for only mentioning the very best. Therefore for local recommendations and more information of the countless places nearby, please contact us and we will be delighted to assist.
Limited Mobility Access
Flat is up 2 flights of stairs. However, the majority of the flat is on 1 level, the main bathroom shower is large, walk in and has a detachable shower head, there is hard flooring in most areas and the rooms are very spacious.